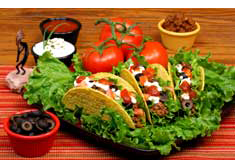 Enjoy genuine New Mexican cooking at your next fiesta! The fun atmosphere and delicious food that El Patio is known for can be featured at your next office party, rehearsal dinner or family gathering. El Patio will provide everything you need to feed large or small groups at any location you choose!
Call Christopher Sandoval for catering information: (505) 268-4245
• Small casserole feeds 10-12 people.
• Large casserole feeds 20-24 people.
• 1/2 pint feeds 1-2 people, pint feeds 3-5 people, quart feeds 6-8 people
• Taco Bar
Choose a protein, onions, cheese, lettuce, tomato, shells served separate for a "build your own taco" bar
• Chips
half bucket feeds approx. 15 people
full bucket feeds approx. 25 people
• Chafing ware available upon request
(Delivery only)
• Tortillas by the dozen (ask about sopaipillas)
Beans
  1/2 Pint, 4.50
  Pint, 8.00
  Quart, 12.00
Carne Adovada
  1/2 Pint, 4.95
  Pint, 14.95
  Quart, 24.95
Enchiladas
  Small, 44.95
  Large, 59.95
Chile
  1/2 Pint, 3.95
  Pint, 7.95
  Quart, 12.95
Tortillas
  Dozen, 3.00
Guacamole
  1/2 Pint, 4.95
  Pint, 14.95
  Quart, 24.95
Papitas
  1/2 Pint, 4.95
  Pint, 8.95
  Quart, 12.95
Salsa
  1/2 Pint, 2.95
  Pint, 5.95
  Quart, 11.95
Bucket Chips, 9.95
Taco Bar (each), 1.90